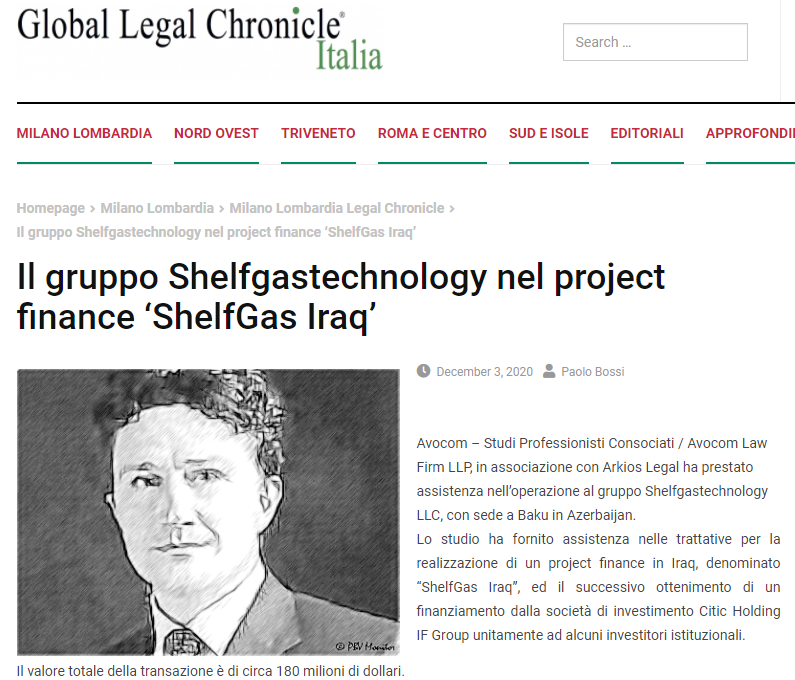 Avocom – Associated Professional Firms / Avocom Law Firm LLP, in association with
Arkios Legal provided assistance in the operation to the Shelfgastechnology LLC group,
based in Baku in Azerbaijan.
The firm has provided assistance in the negotiations for the realization of a project finance in
Iraq, called "ShelfGas Iraq", and the subsequent obtaining of a loan from
investment company Citic Holding IF Group together with some institutional investors.
The total transaction value is approximately $ 180 million.
The negotiation concerns the construction of a gas treatment plant with a capacity of 1,000 tons of LPG per day in the province of Basra, in southern Iraq,
as well as an LPG storage park for its subsequent export as well distribution within Iraq.
The firm provided assistance in the operation with a team led by the managing partner Francesco del Bene, assisted by partners Piergiorgio Casati, of the Milan office, and Ian Hughes, of the London office.
https://www.globallegalchronicle.com/italia/il-gruppo-shelfgastechnology-nel-project-finance-shelfgas-iraq/