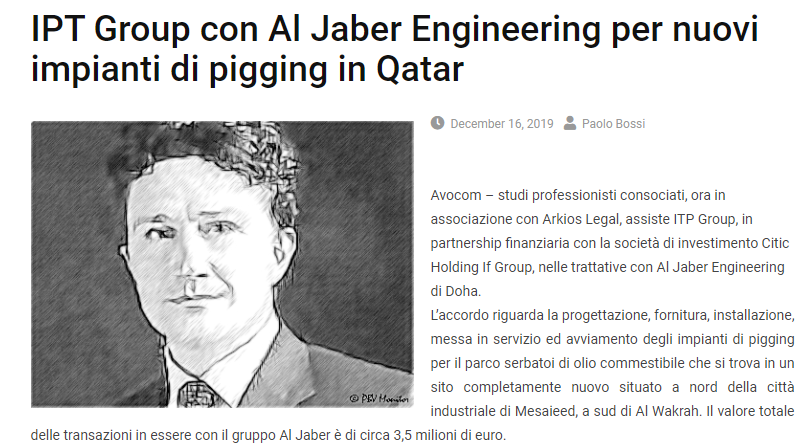 Avocom – associated professional firms, now in association with Arkios Legal, assists ITP Group, in financial partnership with the
investment company Citic Holding If Group, in negotiations with Al Jaber Engineering of Doha.
The agreement concerns the design, supply, installation, commissioning and start-up of the pigging plants for the edible oil tank
park which is located in a completely new site located north of the industrial city of Mesaieed, south of Al Wakrah. The total
value of the outstanding transactions with the Al Jaber group is approximately 3.5 million euros.
The Itp group was founded by Manfredi Mazziotti di Celso in 2001 and has steadily and rapidly developed in Egypt, the United
States, Europe, Russia, Italy and several Middle Eastern countries thanks to projects and contracts for over 200 million that have
led to a company turnover of 70 million in 2011-2012 until the listing on the NYSE in 2011.
Avocom – associated professional firms provides assistance with its founder and managing partner Francesco del Bene.
IPT Group con Al Jaber Engineering per nuovi impianti di pigging in Qatar